АBOUT US
"Baramska" Audit Agency
"Baramska" Audit Agency is a subsidiary of W+ST Group (established in 1962)
with more than 35 offices in Germany that provides services in the area of
independent financial audit, tax planning, legal advice, accounting and
business consulting.
In 2002 due to the expansion of its business, W+ST established ATC –
with offices in Germany (Frankfurt, Berlin, Cologne, Saarbruecken), Bulgaria
(Sofia, Plovdiv), Romania (Bucharest) and Luxembourg that provides
internationally all the services of W+ST.
The team of "Baramska" Audit Agency comprises of professionals with proven
competence in the area auditing, financial management, business consulting, accounting services, legal and tax advice.
We base our services to the Code of Ethics for
professional accountants. We guarantee: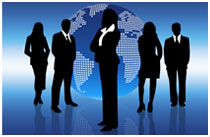 integrity and objectivity
professional competence
confidentiality
tax practice
training and qualification
independency
> Client: Poligraphia PLC, PLovdiv town, Bulgaria
> Client: "Маritza 3" PLC, Dimitrovgrad town, Bulgaria

1st fl, 2 "D-r Rashko Petrov" str., Bulgaria
4000 Plovdiv, tel: +359/ 32/ 621 705
+359/ 32/ 621 693, tel./fax: +359/ 32/ 621 694
GSM: +359/ 888/ 701 894, baramska@abv.bg